Learning with large datasets
Why large datasets?
One of best ways to get high performance is take a low bias algorithm and train it on a lot of data

e.g. Classification between confusable words
We saw that so long as you feed an algorithm lots of data they all perform pretty similarly

So it's good to learn with large datasets

But learning with large datasets comes with its own computational problems
Learning with large datasets
Stochastic Gradient Descent
For many learning algorithms, we derived them by coming up with an optimization objective (cost function) and using an algorithm to minimize that cost function

Suppose you're training a linear regression model with gradient descent

Quick reminder - how does gradien

t descent work?




In the inner loop we repeatedly update the parameters 

θ

We will use linear regression for our algorithmic example here when talking about stochastic gradient descent, although the ideas apply to other algorithms too, such as

Logistic regression

Neural networks

Below we have a contour plot for gradient descent showing iteration to a global minimum

As mentioned, if m is large gradient descent can be very expensive

Although so far we just referred to it as gradient descent, this kind of gradient descent is called

batch gradient descent

This just means we look at all the examples at the same time

Batch gradient descent is not great for huge datasets

If you have 300,000,000 records you need to read in all the records into memory from disk because you can't store them all in memory

By reading all the records, you can move one step (iteration) through the algorithm

Then repeat for EVERY step

This means it take a LONG time to converge
Especially because disk I/O is typically a system bottleneck anyway, and this will inevitably require a huge number of reads

What we're going to do here is come up with a different algorithm which only needs to look at single example at a time
Stochastic gradient descent
Define our cost function slightly differently, as

The overall cost function can now be re-written in the following form;


This is equivalent to the batch gradient descent cost function

With this slightly modified (but equivalent) view of linear regression we can write out how stochastic gradient descent works
1) - Randomly shuffle

2) - Algorithm body

So what's going on here?


The term

Is the same as that found in the summation for batch gradient descent
It's possible to show that this term is equal to the partial derivative with respect to the parameter 

θ

j of the cost(

θ

, 

(

x

i, 

y

i))


What stochastic gradient descent algorithm is doing is scanning through each example

The inner for loop does something like this...

Looking at example 1, take a step with respect to the cost of just the 1st training example

Having done this, we go on to the second training example

Now take a second step in parameter space to try and fit the second training example better

Now move onto the third training example

And so on...
Until it gets to the end of the data

We may now repeat this who procedure and take multiple passes over the data

The randomly shuffling at the start means we ensure the data is in a random order so we don't bias the movement

Randomization should speed up convergence a little bit

Although stochastic gradient descent is a lot like batch gradient descent, rather than waiting to sum up the gradient terms over all

m 

examples, we take just one example and make progress in improving the parameters already

Means we update the parameters on EVERY step through data, instead of at the end of each loop through all the data

What does the algorithm do to the parameters?

As we saw, batch gradient descent does something like this to get to a global minimum

With stochastic gradient descent every iteration is much faster, but every iteration is flitting a single example



What you find is that you "generally" move in the direction of the global minimum, but not always
Never actually converges like batch gradient descent does, but ends up wandering around some region close to the global minimum

In practice, this isn't a problem - as long as you're close to the minimum that's probably OK

One final implementation note

May need to loop over the entire dataset 1-10 times
If you have a truly massive dataset it's possible that by the time you've taken a single pass through the dataset you may already have a perfectly good hypothesis

In which case the inner loop might only need to happen 1 if m is very very large

If we contrast this to batch gradient descent

We have to make k passes through the entire dataset, where k is the number of steps needed to move through the data
Mini Batch Gradient Descent
Mini-batch gradient descent is an additional approach which can work even faster than stochastic gradient descent
To summarize our approaches so far

Batch gradient descent: Use all m examples in each iteration
Stochastic gradient descent: Use 1 example in each iteration

Mini-batch gradient descent: Use

b

 examples in each iteration

So just like batch, except we use tiny batches

Typical range for b = 2-100 (10 maybe)

For example

b = 10
Get 10 examples from training set 
Perform gradient descent update using the ten examples 
Mini-batch algorithm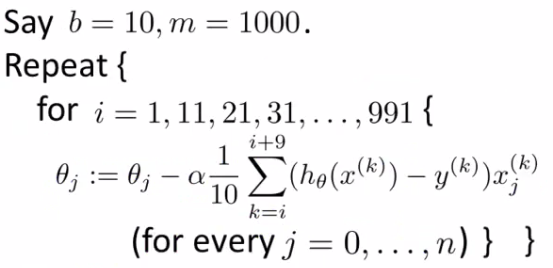 We for-loop through b-size batches of m
Compared to batch gradient descent this allows us to get through data in a much more efficient way

After just b examples we begin to improve our parameters
Don't have to update parameters after every example, and don't have to wait until you cycled through all the data
Mini-batch gradient descent vs. stochastic gradient descent
To be honest, stochastic gradient descent and batch gradient descent are just specific forms of batch-gradient descent

For mini-batch gradient descent, b is somewhere in between 1 and m and you can try to optimize for it!
Stochastic gradient descent convergence
We now know about stochastic gradient descent

But how do you know when it's done!?
How do you tune learning rate alpha (

α)?
Checking for convergence
With batch gradient descent, we could plot cost function vs number of iterations

Should decrease on every iteration
This works when the training set size was small because we could sum over all examples

Doesn't work when you have a massive dataset

With stochastic gradient descent

We don't want to have to pause the algorithm periodically to do a summation over all data
Moreover, the whole point of stochastic gradient descent is to avoid those whole-data summations

For stochastic gradient descent, we have to do something different

Take cost function definition


One half the squared error on a single example

While the algorithm is looking at the example 

(

x

i, 

y

i), but before it has updated θ we can compute the cost of the example (cost(

θ,

(

x

i, 

y

i))
To check for the convergence, every 1000 iterations we can plot the costs averaged over the last 1000 examples

Gives a running estimate of how well we've done on the last 1000 estimates
By looking at the plots we should be able to check convergence is happening

What do these plots look like
Learning rate 
We saw that with stochastic gradient descent we get this wandering around the 

minimum

In most implementations the learning rate is held constant 

However, if you want to converge to a minimum you can slowly decrease the learning rate over time

A classic way of doing this is to calculate α as follows


α =

const1/(iterationNumber + const2)

Which means you're guaranteed to converge somewhere

You also need to determine const1 and const2

BUT if you tune the parameters well, you can get something like this

Online learning
Another example - product search
Map reduce and data parallelism
Previously spoke about stochastic gradient descent and other algorithms

These could be run on one machine
Some problems are just too big for one computer
Talk here about a different approach called Map Reduce 

Map reduce example

More generally map reduce uses the following scheme (e.g. where you split into 4)


The bulk of the work in gradient descent is the summation

Now, because each of the computers does a quarter of the work at the same time, you get a 4x speedup

Of course, in practice, because of network latency, combining results, it's slightly less than 4x, but still good!

Important thing to ask is

"Can algorithm be expressed as computing sums of functions of the training set?"

Another example

Using an advanced optimization algorithm with logistic regression

These terms are also a sum over the training set
So use same approach

So with these results send temps to central server to deal with combining everything


More broadly, by taking algorithms which compute sums you can scale them to very large datasets through p

arallelization 

Parallelization can come from

Multiple machines
Multiple CPUs
Multiple cores in each CPU

So even on a single compute can implement p

arallelization 

The advantage of thinking about Map Reduce here is because you don't need to worry about network issues

Finally caveat/thought

Depending on implementation detail, certain numerical linear algebra libraries can automatically parallelize your calculations across multiple cores

So, if this is the case and you have a good vectorization implementation you can not worry about local

 

Parallelization and the local libraries sort optimization out for you
Hadoop
Interview with Cloudera CEO Mike Olson (2010)